SMASH: Using Market Shaping to Design New Strategies for Innovation, Value Creation, and Growth
Stunningly, strategy has never adequately defined one of its central institutions, the market. Old playbooks got away with a hodgepodge of assertions, assumptions and approximations.

But the undeniable complexity of modern markets confronts us with the truth. Markets are elaborate, evolving ecosystems think biology, not machinery. Today, strategy must embrace complexity or die.

Recognizing markets as complex adaptive systems spells strategic implications. Notably, as markets are partly socially constructed, they can be reconstructed. And while they cannot be predicted or controlled, they can be influenced.

Rooted in the richness of market systems, SMASH traces the three main resulting shifts in strategic thinking: (1) from firm focus to context focus, where the relevant context is our definition of the market; (2) from competing and winning to value creation and cooperation; and (3) from analysis, prediction and planning to non-predictive strategizing and experimentation.

Nenonen and Storbacka weave these three strands together into a cohesive strategic framework Strategies for Market Shaping. Market shaping strategies acknowledge that much of firm performance is explained by the markets where a firm operates. Crucially, strategic choices go beyond market selection, entry and exit; firms should actively seek to adapt the market to the firm instead of the firm to the market, and open up untapped value in the process.

Market shaping is not new. What is new is systematizing an actionable framework for understanding and shaping markets. And the good news: It does not take market power and resources, or intuitive genius, to shape markets to your own benefit. SMASH offers tangible strategies that savvy market shapers of any size can implement, making it a must-read.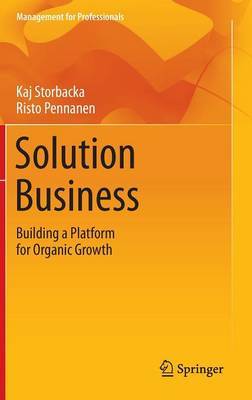 SOLUTION BUSINESS
Building a Platform for Organic Growth
Success in solution business starts by accepting that solution business is a separate business model, not simply another product category or an extension of the existing product business.
This book identifies the business model areas that firms need to focus on when transforming into solution business. It further organizes these areas into three sets of capabilities and practices: commercialization, industrialization and solution platforms.
This is the first book to take a comprehensive view of success in solution business and its relevance therefore extends to all functions of firms wanting to become solution providers as well as to many managerial levels. The book will also help you self-assess how ready your organization is for success in solution business.
Markkinamuotoilu: johdatko markkinoita vai johtavatko markkinat sinua?
Designing markets: are you managing your market or managed by your market?
Onko olemassa kilpailusta vapaita sinisiä meriä? Miten löytää kasvumahdollisuuksia kypsiltä markkinoilta? Missä vika, kun uuden tuotteen tai palvelun kaupallistaminen ei onnistu?

Vastaus kaikkiin kysymyksiin löytyy markkinainnovaatioista. Kirjassa kyseenalaistetaan objektiivisten, yrityksen ulkopuolisten markkinoiden oletus ja tilalle tuodaan ajatus verkostomaisista, jatkuvasti kehittyvistä markkinoista.

Kirja on tarkoitettu kaikille, jotka etsivät kasvua ja kannattavuutta markkinalähtöisellä liiketoiminnalla.
Market Innovation: Renewal of Traditional Industrial Networks
The study adopts a constructionist approach to markets, positing that markets are socially constructed human artifacts resulting from the actions and cognitive framing of the involved actors.
The present research had three objectives: to develop a conceptual framework for categorizing managerial market definitions, to investigate empirically how practitioners frame novel markets, and to identify challenges associated with creating innovative market definitions in traditional industrial networks.
The chapter draws on data collected within an extensive research program, carried out between March 2009 and December 2010. The program consisted of six academic research projects covering a wide range of theoretical backgrounds as well as interactions with 112 senior managers from ten major firms in a series of 52 workshops.
The proposed conceptual framework supplements the current dominant product-based view of market definitions by positing that managers in industrial networks can also choose to define their markets based on (1) the firm's resources and capabilities, (2) the network's resources and capabilities, (3) the customers' processes, and (4) the end-consumers' practices.
The results of the study additionally showed that current product-based theories of markets also influence managerial judgment: practitioners framed the vast majority of new market opportunities (73 %) around the product or service being sold.
The Solution Business Model: Boosting Organic Growth through Cross-functional Solution Sales
Facing shrinking sales volumes and margins, firms are increasingly turning towards solution business. More comprehensive, integrated offerings can enable growth and generate more stable cash flows. But in order for firms to excel in solution business they need to go beyond mere ad-hoc, un-industrialised solutions.
The transformation towards true solution business requires a fundamental change of mindset regarding how firms understand their markets, their offering and their customers. Firms also need to invest in appropriate organisational capabilities for strategising, management systems, infrastructure support as well as human resources management.
This publication gives the reader an overview of what solution business is and offers insights into how a successful solution business model can be developed.
PDF currently unavailable - coming soon
Market Innovation: How to Make and Shape Markets
What is a "market"? Conventional managerial wisdom teaches us that markets are geographical areas, industries, or the aggregated demand for a particular product. Straightforward and easy to understand – but this line of thinking has led companies into maturing and commoditizing markets, where all players are involved in a zero-sum game.
What is needed is a change of perspective. Instead of considering markets as "given" places where demand and supply meet and reach equilibrium, we should understand that markets are dynamic social networks aimed at value creation. Thus, companies can make and shape markets by introducing new ideas and business model elements into the network. This publication illustrates how the creative re-definition of markets, market innovation, offers considerable growth and profitability opportunities for talented firms.
PDF currently unavailable - coming soon
Driving Growth with Customer Asset Management
To achieve success in today's business environment companies need to understand how customers drive growth, profitability, and in the long run, shareholder value. The prerequisite of success is to create a structure and a business model that enables efficient utilization of the company's customer base.
Selling Value: Maximize Growth by Helping Customers Succeed
The role of sales is changing. A new strategy for selling is needed, and it's called Value Sales. Value Sales fundamentally changes the way we look at identifying opportunities for growth and profitability in the customer base. The sales force is under a lot of pressure. The book aims to find ways to succeed in sales as these pressures mount. Unit prices are going down in almost all industries, and companies are forces to look for new revenue streams and sources of profit. Value Sales requires a new type of sales processes and competencies, and it also implies changes to sales management. Value Sales is a big investment into customer relationships, and sales investments need to be allocated to customers with greatest future potential. Value Sales brings with it another new idea: Customer Process Innovation. The salesperson of the future must understand the business drivers of the customer in such detail that he or she can proactively innovate changes to the customer's processes. The value created by these changes needs to be quantified to the customer in order to capture part of the value to the provider.
Strategisches Account Management
Nicht selten liefert nur ein kleiner Anteil von Kunden den größten Beitrag zum Cashflow eines Unternehmens. Hier verborgene Wertpotenziale werden jedoch von den wenigsten Unternehmen strategisch und operativ genutzt. Die Autoren beschreiben in ihrem Buch Wege und Instrumente, wie Strategisches Account Management mit der CRM-Methodologie verbunden werden kann.
RED: Relationship Experience Design
The customer is an "actor", not a target group. From a marketing communications point of view this means that communication is no longer about sense giving but about the customer being involved in the communication process and creating meanings based on his own experiences. Systematic design of customer encounters driven by an in-dept understanding of customer relationship processes thus becomes essential. Successful companies will base their marcom on how to create experiences that enable customers to learn to use the provider's offering.
We call this RED (Relationship Experience Design). RED is a concept for designing customer relationship experiences in a new borderless organisation. RED is a possibility to manage customer relationships and the communication that takes place in them. RED is a new tool to manage the brand, the content of the relationships, the relationships processes and the environment in which they occur.
Customer Relationship Management: Creating Competitive Advantage Through Win-Win Relationship Strategies
To develop the long-term relationships necessary to survive the intense global competition of the modern era, businesses must strive to meet customers needs as never before. This book is a result of an extensive research project that studied new ideas in marketing, and how these strategies are being applied throughout the US and Europe. The case studies provided demonstrate the ability of effective CRM programmes to refine customer relationships and increase their value.